Regular price
Sale price
$24.99 AUD
Unit price
per
Sale
Sold out
Thoughtfully designed with women in mind.
Treat yourself to a beautifully scented magnesium-enriched bath. Our luxurious blend of ingredients has been carefully selected for a hydrating, soothing, and relaxing bathing experience. The heavenly aroma works in harmony with your body, brightening your mood, revitalising your senses, leaving your skin feeling supple and renewed.

Ingredients

Magnesium Chloride, Pink Himalayan Rock Salt, Essential Oils: Lavender Sweet Orange, Bergamot, Ylang Ylang, Roman Chamomile, Clary Sage, Sweet Basil
How to use

Foot Soak: Dissolve 1 cup of Meo salts in a basin of warm water and soak for at least 20 minutes. Recommended 1 to 3 times per week.

Full Body Soak: Dissolve 2 to 3 cups of Meo salts in a warm bath and soak for at least 20 minutes. Recommended 1 to 2 times per week.



For the ultimate experience we recommend the following steps:

Dissolve your Meo salts in warm water.

Burn some candles and dim the lights.

Pour yourself a cool beverage.

Sink your body into that magnificent rose petal bath and feel the silky water detoxify your skin and rejuvenate your mind, body, and senses.

Stay here for at least 20 minutes and really think about this beautifully simple and natural gift you are giving yourself….You deserve it
How long do I leave it on for?

For maximum absorption, we recommend a minimum of 20 mins.

If you're not a fan of the salty residue after applying, it's not a problem to wash it off after your 20 minutes is over.
Why does it itch/tingle my skin?

You may feel a tingling sensation, this might mean your body's magnesium levels are low, however, with consistent use, the tingling sensation should decrease.

To reduce the reaction, try these techniques:
- Try spraying on the soles of your feet before other parts of the body.
- Apply only a small amount and massage it in, and introduce new areas when you feel comfortable.
- Soak in a magnesium bath to get your magnesium levels up before spraying.

AVOID
- Do not apply to broken or freshly shaved skin.
- Avoid spraying straight after a shower as your pores are open.

It truly is a mineral our bodies need to survive, so don't be deterred from the itchiness as it should subside and you'll be felt feeling AMAZING
Share
View full details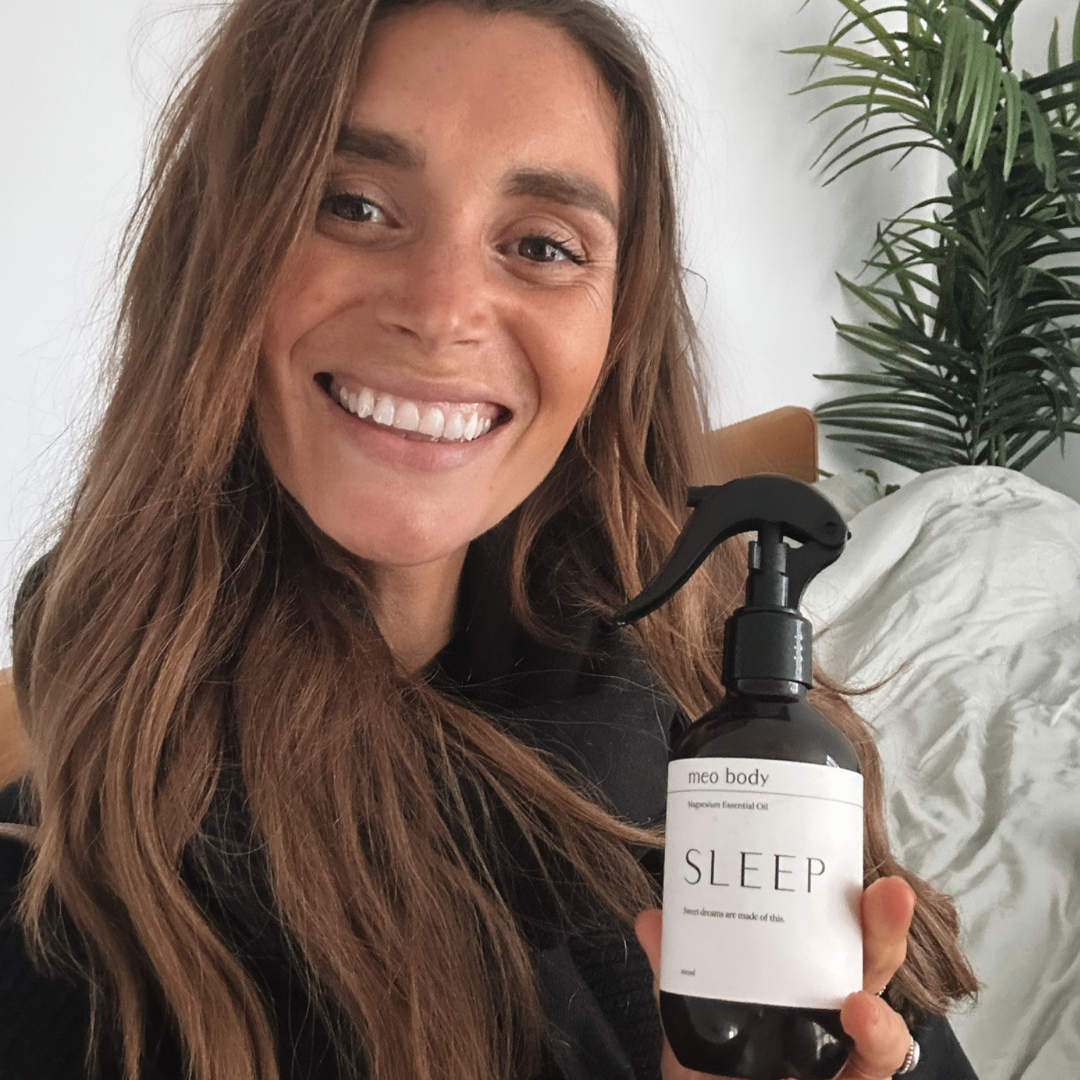 Recommended by Australia's #1 Sleep Expert Olivia Arezzolo
Renowned for her exceptional insights into sleep science, Olivia Arezzolo refers to the Sleep Magnesium Spray as an "absolute powerhouse for your BEST night's sleep."